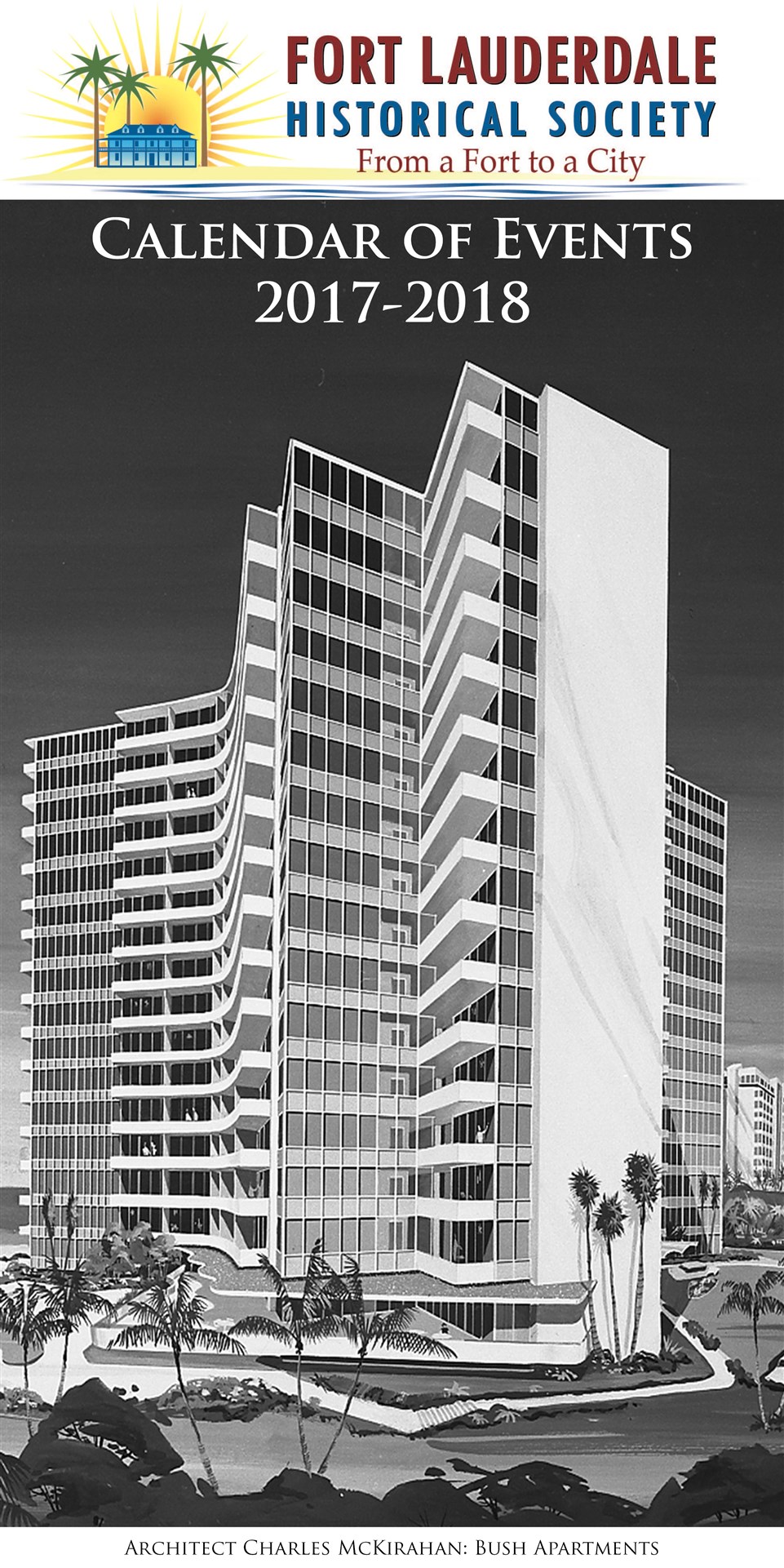 Our season preview is out and you're in for one of the most dynamic and exciting years Fort Lauderdale Historical Society has ever embarked on!
Starting with tomorrow's sold out Mid Century Modern Bus Tour, we salute the 51st anniversary of the National Historic Preservation Act this month with a special lecture October 17th by Anthony Abbate on the Charles McKirahan legacy in Broward County. [Lecture tickets still available here: https://www.eventbrite.com/e/preservation-51-anthony-abbate-on-the-charles-mckirahan-legacy-tickets-38166400732]
The celebration of preservation continues with International Day of Archaeology on October 21st on the front lawn of History Fort Lauderdale. Touch a mammoth tooth, dig through the stratigraphy to unlock science secrets of South Florida soil, and see if you can tell the difference between our real and replica artifacts on display. All ages and learning abilities welcome, free with museum admission. [Skip the lines and get your general admission museum tickets now: https://www.eventbrite.com/e/international-archaeology-day-tickets-38878353201]
The following week we welcome Fernando de la Torre, Director of the Mexican Consulate's Cultural Institute, to provide some historical context for our month long Day of the Dead community ofrenda & Inspired by Frida exhibitions. This talk will take place October 23 at 6 pm and is free with museum admission and open to the public. [RSVP with your general admission pre-sale here: https://www.eventbrite.com/e/fernando-de-la-torre-historical-day-of-the-dead-traditions-in-mexico-tickets-38557784371]
On October 26th we're hosting our very first Spirits of the New River Ghost Tour with a team of expert researchers in the field of paranormal investigations. Come learn the family histories of some of Fort Lauderdale's first pioneers and see who's still around today. [Space is extremely limited and likely to sell out fast, so save your spot today: https://www.eventbrite.com/e/spirits-of-the-new-river-ghost-tour-tickets-38821003667]
Don't miss the costume contest on Saturday, October 28th as part of Fort Lauderdale Parks and Recreation Department's Trick or Treat on 2nd Street. An annual costume parade and scavenger hunt in the heart of the downtown Arts and Entertainment district, ending with the costume contest on the back porch of History Fort Lauderdale's New River Inn Building.
History Fort Lauderdale will be at the senter of South Florida Day of the Dead celebration November 2nd from 5 - 8 pm. Stop by and see the beautiful exhibit of community ofrendas and fine art Inspired by Frida. Start out your evening with a Mexican Folkloric Dance Performance on the front lawn of #FTLhistory starting at 5:30 pm. Free with general museum admission and open to the public. [Get details and RSVP on Facebook: https://www.facebook.com/events/1729442430695734]
In honor of Native American Heritage Month, we'll be hosting a Seminole Art and Culture day November 5th from 10 am to 2 pm, part of the opening of the Seminole Women Artists exhibit running through November 30th. Free with general museum admission and open to the public. [Pre purchase your tickets here: https://www.eventbrite.com/e/seminole-women-artists-opening-tickets-38566979875]
Join us in becoming a member of the Fort Lauderdale Historical Society and take part in our annual Light up the Holidays membership drive November 9th at 6 pm. Complimentary admission for new members! Enjoy seasonal snacks, drinks, music and a countdown to the lighting of the campus holiday decorations. [Click, join & RSVP https://www.eventbrite.com/e/light-up-the-holidays-tickets-38558109343]
Come out and meet the artists featured in our newest exhibition: Seminole Women Artists. Hear stories, songs and poetry of some of Florida's original urban planners and economic developers, and how their artistic "women's work" helped to shape the South Florida we know today. November 14th at 6 pm. [Reserve your space now https://www.eventbrite.com/e/seminole-women-artists-meet-and-greet-tickets-38881690182]
On December 3rd, History Fort Lauderdale welcomes a new exhibition, Healing Waters: Photography of JohnBob Carlos. In this exquisite presentation of large scale everglades photography, guests will be transported to seldom seen landscapes, once part of everyday life along the New River. Meet the artist, live music, gallery tour and performances from 11am to 2 pm. [RSVP here: https://www.eventbrite.com/e/healing-waters-opening-tickets-38853259144]
December 9th, stop by for a book signing and talk by Edna Siniff, author of "Living Seminole," a personal biography of her years as a missionary child whose parents were assigned to work among members of the Seminole Tribe on the Hollywood (then Dania) reservation. [Reservation link coming soon]
Fort Lauderdale Historical Society in collaboration with the United Nations Association of Broward County welcomes you to a celebration of International Human Rights Day. Featuring the photography of JohnBob Carlos, music, discussion groups and guest speakers from the UNA as well as members of the Seminole and Miccosukee Tribes of Florida. 10 am to 4 pm on Sunday, December 10th. [Reservation link coming soon]
Finally, to round out the year, celebrate the arrival of Florida Winter with us on a historic solstice cruise down the New River in the twilight hours of December 21st. Starting at the New River Inn building, enjoy seasonal snacks and performance art detailing the global cultural significance of solstice, followed by a narrated river cruise with tales of holidays long ago. Space is limited. [Get your tickets today! https://www.eventbrite.com/e/historic-solstice-cruise-tickets-38821547293]